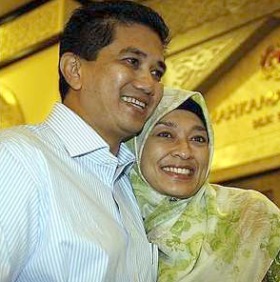 KYDS olih SPRM ... kes yang disimpan olih Suruhanjaya Pencegahan Rasuah Malaysia...
gurkah-gurkah politik di'port' kata.., kalau betul Azmin yang akan angkat sumpah jadi MB Selangor yang baru...
'teloq' Azmin pun akan kena picit macamana 'teloq' Khalid Ibrahim yang telah di picit...
"One interesting document in that file is regarding the RM15,000 a month that Vincent Tan was paying Azmin Ali. Other than shares, houses and cars totalling about RM1.5 million, almost RM10 million in cash and cheques flowed through Azmin's and Shamsidar Taharin's (Azmin's wife's) bank accounts. All these transactions were confirmed and certified by the banks concerned. The gist of this whole story is about how the ACA had gathered enough evidence to arrest and prosecute Azmin Ali for corruption involving millions of Ringgit but the then Deputy Prime Minister, Anwar Ibrahim, told them to NFA (no further action) the case and bury the file".
dollah yankee -
umno/BN sedang senyum dan akan gelak besar nanti ...